Men's Elegant Lace-up Shoes
Men's lace-up shoes, with their unmistakable classic appearance, give the idea of footwear that goes well with formal wear. That's right, in most cases they are worn for special occasions whose watchword is unconditional elegance.
However, some models of these shoes can also be used for daily activities.
Think, for example, of some models offered by Nero Giardini or by Gualtieri that are well suited to be combined also with jeans and t-shirts or the high ones with rubber soles, in a sporty style, ideal for wearing in summer with trousers knee and shirt.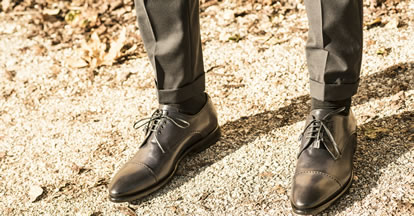 Lace-up shoes for every look
Therefore, for those who love men's lace-up shoes, there is no obligation to wear classic clothing, jacket and tie style.
However, among the most chic models that we offer in our shop of particular value are those in leather, with attention to every detail, available in various colors, from the more sober one, such as black, to the brown one. Always highly sought after and beautiful are also the suede ankle boots which, unlike the elegant ones, go well with everything.
Uncompromising design and quality
Buying a pair of men's lace-up means not only aiming at footwear that enhances the appearance in terms of aesthetics, but also means preferring a quality product, lasting and comfortable.
In our shop we have selected only high quality footwear, made with first choice materials, finished in every detail so that, in addition to design, the real difference is also made by quality. The variety of models then questions the idea that women have more choice when it comes to shopping.
The models we offer are selected from the best brands in the sector, to best satisfy all the tastes and different preferences of each.
On sale