Perfect for leisure, for a business meeting, synonymous with elegance and a good life, men's moccasins have always been placed in the bed of iconic footwear for men's fashion.
The elegant men's shoes par excellence are renewed in look and design, rediscovering boat models or the more elegant ones, particularly suitable for ceremonies.
The elegant man always cares about his appearance.
Along with tailor-made clothes and well-combed hair, you cannot miss beautiful elegant shoes.
Among the models of men's moccasins in vogue this year, however, also the more informal or more sporty, nautical style, for lovers of beautiful and fine shoes, but with a more casual touch.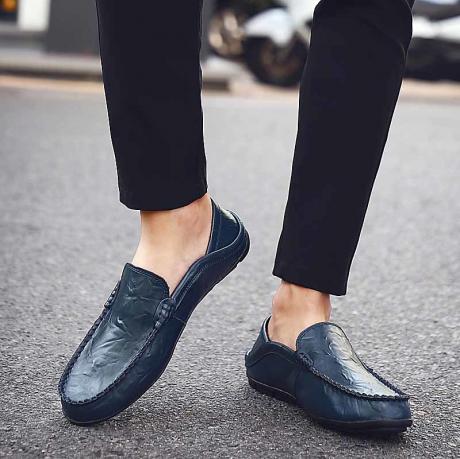 The trendiest models of the moment
The men's moccasins collection includes several proposals, in line with the great and tireless creativity of international brands. Next to basic-colored leather models, here are more extravagant creations, with whimsical shades and original decorations.
The classic boat moccasins with rubber sole and side laces on the upper are also beautiful.
Metallic buckles and inserts of various colors adorn the most sophisticated men's moccasins which certainly do not lose their essentially easy mood.
The suede moccasins are also beautiful, linear, without buckles and without laces.
Antica Cuoieria, Callaghan, Maritan, Michael Gold sono solo alcune delle marche da noi trattate, tra le migliori in fatto di qualità e artigianalità.
Lo stile e la storia del mocassino uomo richiedono di indossarlo nel modo giusto, con i più opportuni abbinamenti, così da avere un outfit casual davvero molto speciale.
Le marche dei modelli proposti nel nostro shop godono tutti di una forma comoda e avvolgente che regala, oltre ad una indubbia eleganza, anche un comfort senza paragoni.
Qualità senza compromessi, tradizione, creatività: le nostre proposte di mocassini uomo rappresentano l'essenza del made in Italy, il meglio di una produzione che mette al suo centro eleganza e comfort.